---
INTERNAL ROCKSTAR ESSENTIALS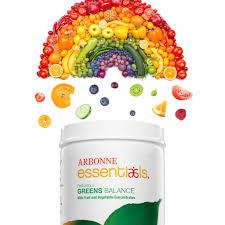 Mom always said to eat your veggies. Arbonne Essentials makes this easy, featuring a Greens Balance with its spectrum of proprietary color blends of whole fruit and vegetable powders — delivering antioxidants, phytonutrients and fiber you need to have a more balanced, healthier diet every day.
■
Greens such as spirulina, kale, artichoke, broccoli, spinach, alfalfa, barley grass, and wheat grass contain chlorophyll, and vitamins A, K & E
■Reds such as pomegranate, cherry, red coffee bean and tomato provide antioxidants including vitamin C, flavonoids, and polyphenols
■
Yellows such as pumpkin, carrot, sweet potato, papaya and mango contain vitamins A and C along with antioxidant bioflavonoids and alpha- and beta-carotene
■
Blues such as blueberry, blackcurrant, purple sweet potato, and elderberry are sources of antioxidants, resveratrol and vitamin C
---
DRINK IT KHULARAE STYLE
DRINK GREENS SHOT FIRST THING IN THE MORNING
1 SMALL CUP + 1 SCOOP GREENS BALANCE + ICE + (OPTIONAL: ACIA SKIN ELIXER)
(YOU CAN ALSO ADD TO ANY SMOOTHIE)
---
Take the time to care for your digestive system every day! This mild powder has soothing notes of ginger and chamomile, and delivers prebiotics, 3 billion CFU of probiotics, and enzymes to help support optimal digestive function.
---
DRINK IT KHULARAE STYLE
BIG GLASS + FILL W/ ICE + 1 FIZZ STICK +
1 SPARKLING WATER OF CHOICE + LIME
---
We've taken a good thing and made it even better – now non-GMO and with less sugar.
Our best-selling Protein Shakes deliver 20 g of vegan protein with 24 vitamins and minerals and all essential amino acids to help support muscles and daily health.
Our plant-powdered protein is derived from peas, rice and cranberries for optimum digestibility and satiety.
This delicious Protein Shake Mix is clinically tested and certified to have a lower glycemic index, which means it tastes great and won't cause a spike in blood sugar. Perfect for your journey to healthy living inside and out!
---
DRINK IT KHULARAE STYLE
SMALL CUP + ICE (OR SERVE HOT TEA) +
1 SCOOP INNER CALM + WATER +
LEMON OR ORANGE
---
Our Whole Food Blend Multivitamin and Mineral Boost contains a blend of 21 vitamins and minerals to support overall health with ingredients to support bone, eye and immune function. It delivers a comprehensive multivitamin that fills key nutrient gaps in your diet and features forms to help support bioavailability and absorption. The unique botanical blend and antioxidants help fight oxidation, which contributes to the aging process, and includes a B-complex and vitamins A, C, D and E from whole food sources.
---
USE IT KHULARAE STYLE
WE LOVE THE IDEA OF BEING HEALTHY AND TAKING HELLA VITAMINS. HOWEVER, WHO HAS TIME TO SIT THERE AND SWALLOW 10+ BIG ASS FREAKING PILLS?!?
KHULARAE IS NOT ABOUT THAT LIFE.
WE JUST ADD 1 SCOOP OF MULTI VITIMAN POWDER TO OUR MORNING SMOOTHIE AND THEN BAM, WE GOOD FOR THE DAY! 
---
EXTERNAL ROCKSTAR ESSENTIALS